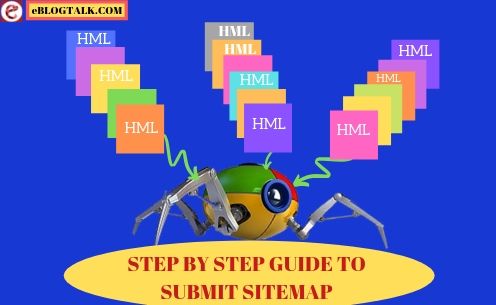 Even, you have not much idea about web development, chances are you have heard of the term SEO (Search Engine Optimization). It is a broad term for a gigantic list of techniques that can improve your site's ranking in search engines. Many of the strategies used for the site's ranking are focused on keywords, but there are also other tasks that are equally important.
One of the best tasks you can do to increase your website's organic traffic is submitting a sitemap. There is a list of URLs on your website with some information about them and sitemap makes it easy for the search engines to understand your site's content.
Let understand it with example
A sitemap is a blueprint of your house!
Think websites like your house and each web page as a room. Now you can think sitemap like the blueprint of your house and each webpage is your room, sitemap would be a blueprint make it easy for Google, the proverbial home inspector- to quickly find all the rooms within your house.
In this post, you will find all the information about sitemap in more detail and we'll show you how to create a sitemap and let the google know about it.
Let's start to dig into the depth.
What is sitemap in SEO?
A sitemap is a list of web pages which is created for crawler so they can find web content fast and easy. The search engine uses a sitemap to see the newest pages on the website including all images and video content, etc.
In simple words, a sitemap file contains all the URLs of your blog, and you submit that files to search engine to let them know about all the pages of your website. Search engine bots follow sitemap file to crawl and index your website.
Why is sitemap important for SEO?
Faster indexation: the Search engine will find out the new pages faster, therefore, the crawling process and displaying the website in search results will be faster.
Better indexation of deep pages: Search engines can find out the pages that were not discovered while crawling the website. But it doesn't mean that all of them will be indexed and displayed in the search result.
Monitoring of indexed pages: In Google Search Console, it is possible to find out which URLs are covered in the sitemap that Google indexes and also when the website is the last read by google.

Does sitemap help website with better search ranking?
No, sitemap doesn't help website with better search ranking. Listing URL into the sitemap has no influence on the ranking. URL with deep link level and lack of internal links get no link juice. With no link Juice, the search engine can consider these pages as low-quality, even if they are listed in the sitemap.
Sitemap only helps to call the google to crawl the website and give all the information about the site by the XML file. And it totally depends on google and your relevant content which page is going to be indexed.
By now, you know the main principles and the benefits of sitemap in SEO.
Now, it's time to go a little deeper!
What type of sitemap are best suitable for your website?
There are mainly two types of sitemap
XML sitemap (Extensible Markup language)
HTML sitemap (Hypertext Markup language)
XML sitemap has two types:-
Index sitemap:- How many a URL sitemap a website has.
URL sitemap:- Contain final information of all the URLs on webpages.
The XML sitemap is further divided into different categories
Sitemaps of pages (commonly known as XML sitemap in the community)
Image sitemaps (details of images and their URLs on the website)
Video sitemaps (what webpages have videos embedded in them and their details)
News sitemaps (describe website news content so, it is easy to index in search results like google news).
Mobile sitemap (optimize site content for mobile phone)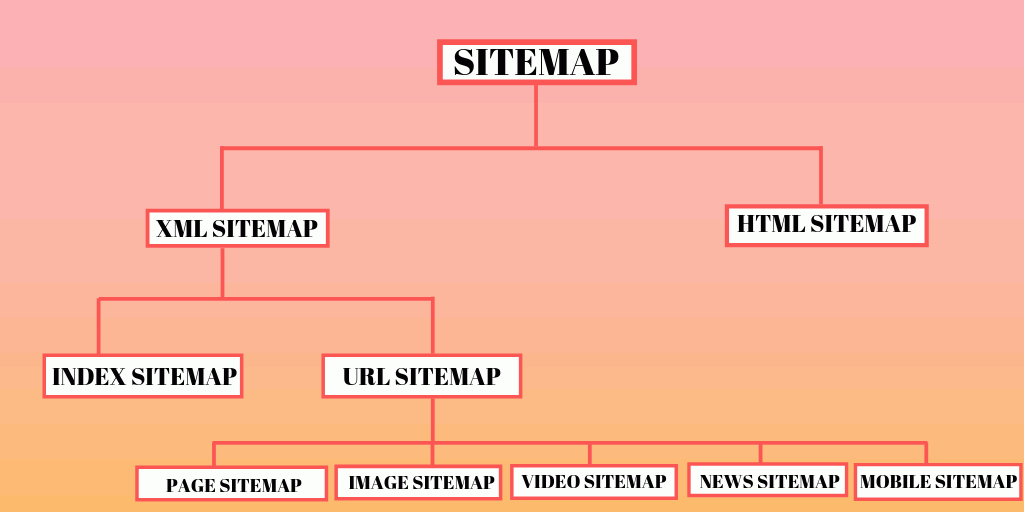 What is XML sitemap for a website?
XML is a language that load information in a pre-defined format and this language is not understandable by humans but search engines understand what is the information was given by it and the purpose of writing. So, we can say that;
XML sitemaps are mainly for search engines to have a map of internal and external resources of a website with their information.
What is HTML sitemap for a website?
HTML is a map that store all the information about the website and this sitemap is mainly for users to guide them to find their desired item on-site or to know the website quickly and easily.
Let's understand it with example
A website has numerous webpages categorized in different sections in the form of directories. Now, due to the behemoth quantity of webpages user can feel himself at nowhere when he lands on the website. Then, the first thing that can assist him is the search option and the other option is sitemap HTML.where you can explore the website.
Do you really need a sitemap for your website?
No!
Why????????
Every website doesn't need a sitemap and if you need one, then it doesn't mean that it is the only sitemap.xml.
A sitemap for you if:
Large website
New website
When you change your website's content frequently
Help to index your fresh content very fast
Don't need a sitemap, if
One page presentation
A portfolio website
SaaS Application
How to create a sitemap for your website
Manually build a sitemap:- It is recommended for an experienced web developer.
Use a tool provided by the website's platform:- WordPress users can download and install a dedicated plugin that will create the sitemap of your website easily.
Online site generator:- This process is simple and quick and you would not have to install anything extra on your site.
Let's take a look on the XML-sitemaps generator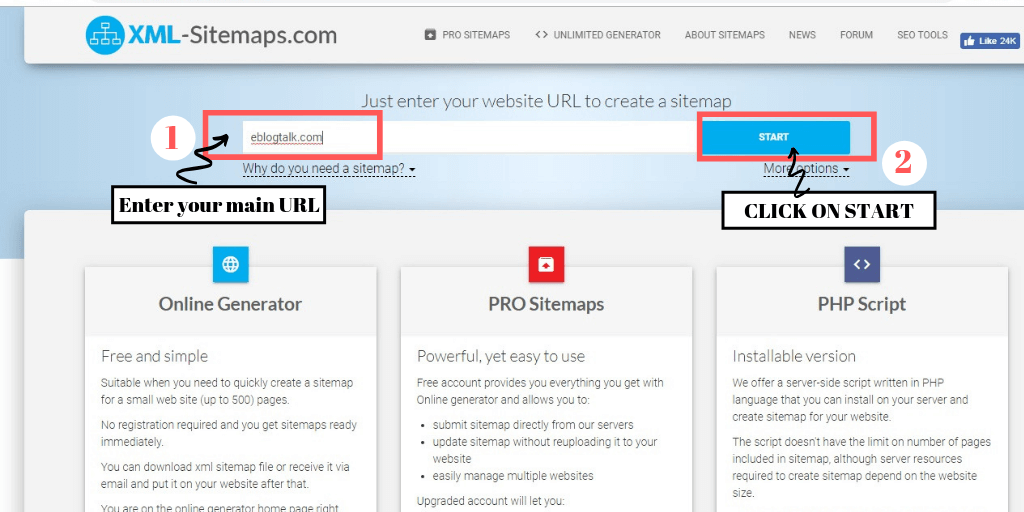 It is easy to use and also free if your website page is fewer than 500 pages. You have to enter the main URL at the top and click on the start. Then, the generator will crawl your website which takes a few minutes (depend on the website's size).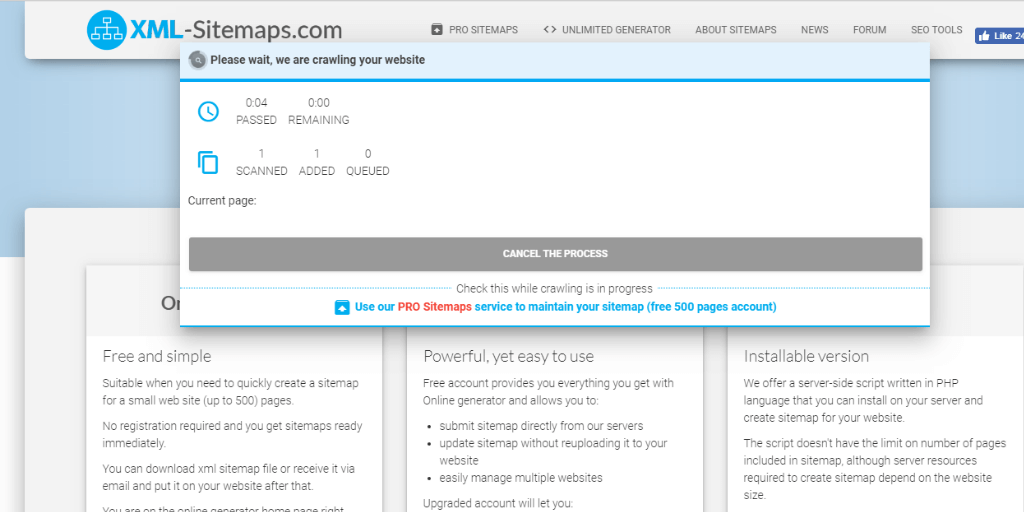 Wait! It is crawling your website.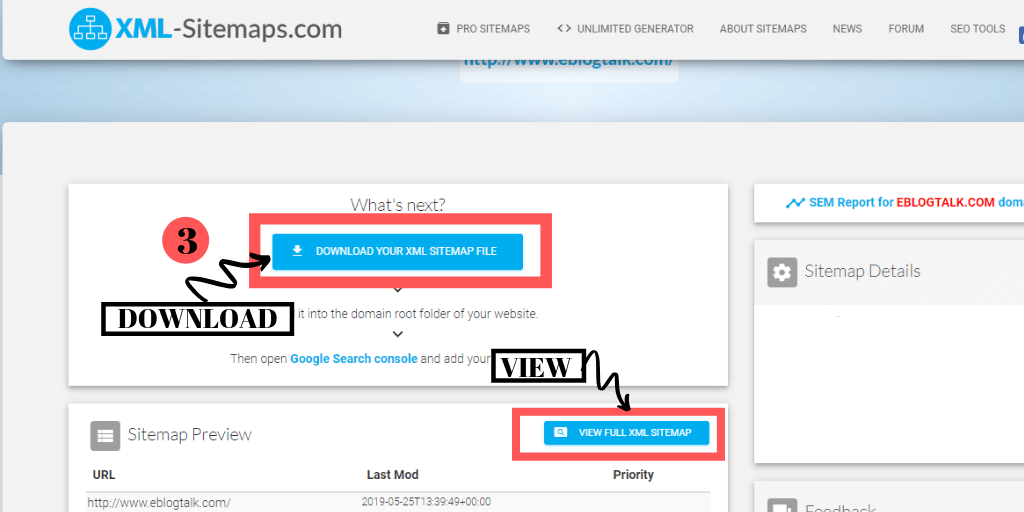 You can click on the View Full XML Sitemap to see your site's sitemap.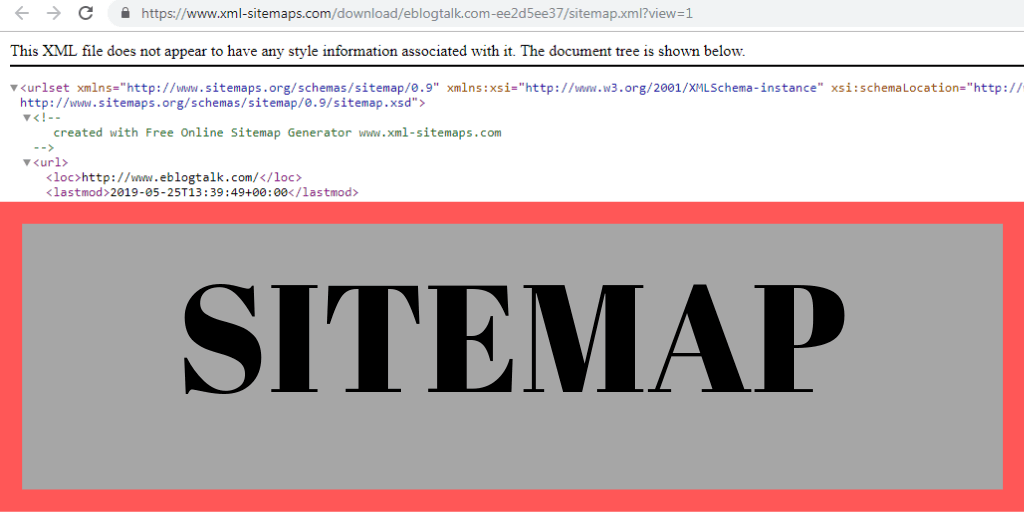 Then, click on the Download Your XML Sitemap File to save it to your computer and then upload the file into the root directory of your website.
How to submit a sitemap to the WordPress sites
Sitemaps are generated in different ways depending on your website's platform. For example, WordPress sitemap can easily be generated using the Yoast SEO plugin.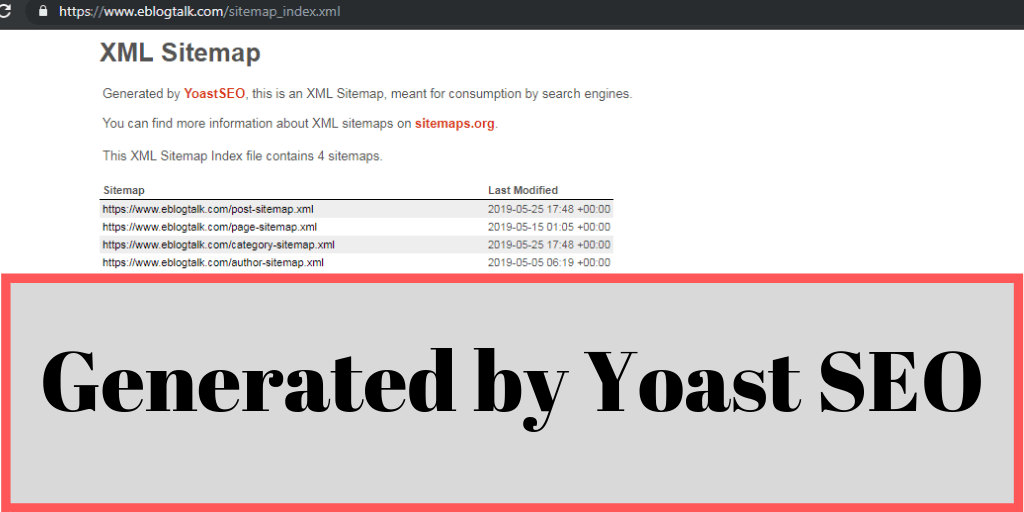 How to submit the sitemap to the google search console
Follow the following steps to submit the sitemap to google search console
Sign in to Google search console
Select your website from the left sidebar
Click on the sitemap from the left sidebar
Add your sitemap URL (sitemap_index.xml)
Click Submit
Sign in google search console and select the website from the top of the left sidebar.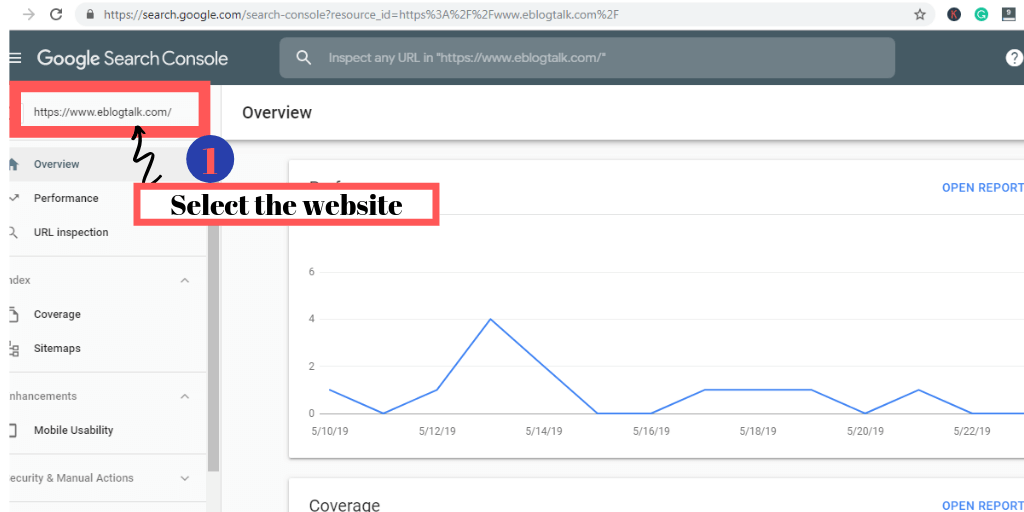 Click on the sitemap button  from the left sidebar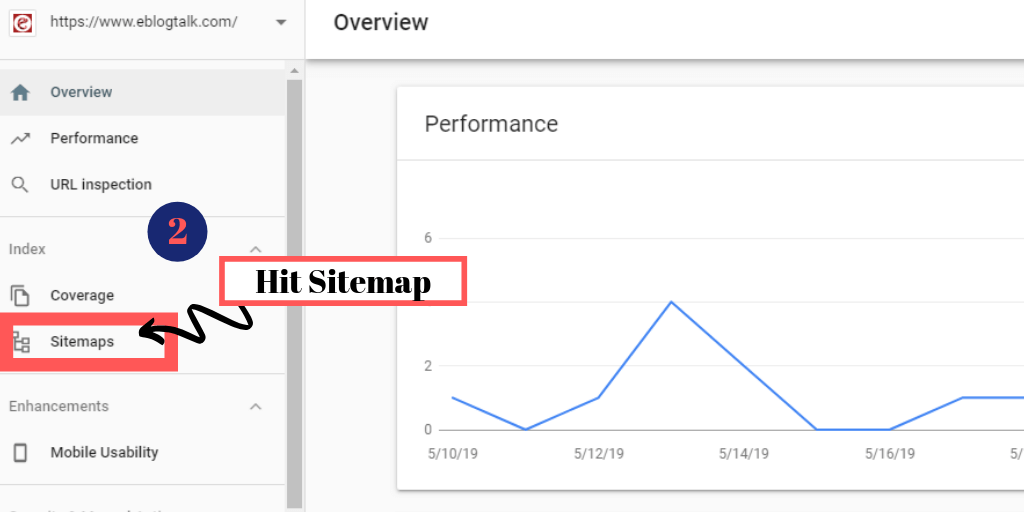 Add your sitemap URL and click on submit button.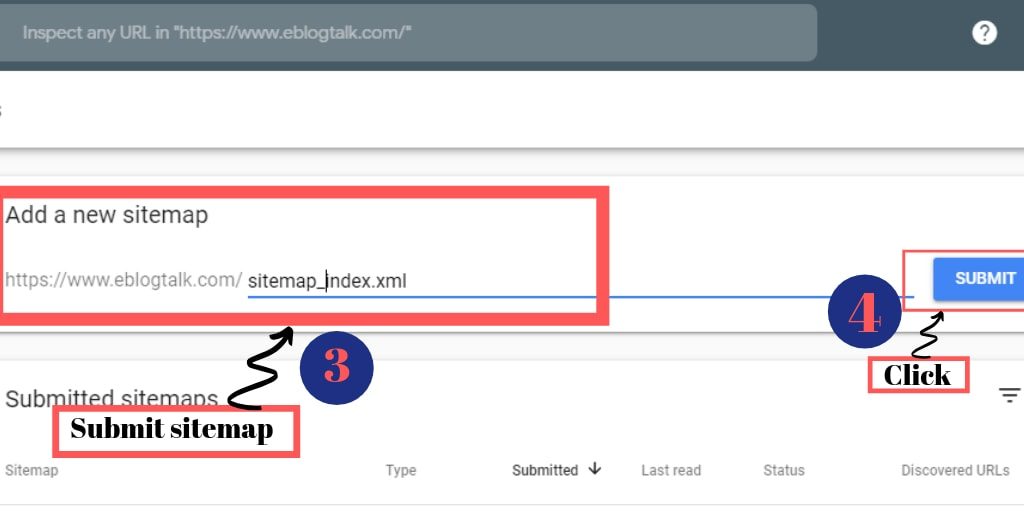 After that, if you refresh the page you'll see your new sitemap listed
That's it! Google will be informed about your new sitemap and should check it out soon.
Once you click on the submit button, Google will crawl your sitemap file and start indexing the links listed in the sitemap.
Conclusion
Creating the sitemap is one of the simplest and best ways which provide search engines all the information they need to make sense of your content. As you have seen you can easily build a sitemap using an online generator and then you only need to upload it to your website and also submit it to search console to speed up the crawling process.
Do you have any question about sitemap? Ask in the comment section below.